Support on SoCA's Contemporary Art Project in Myanmar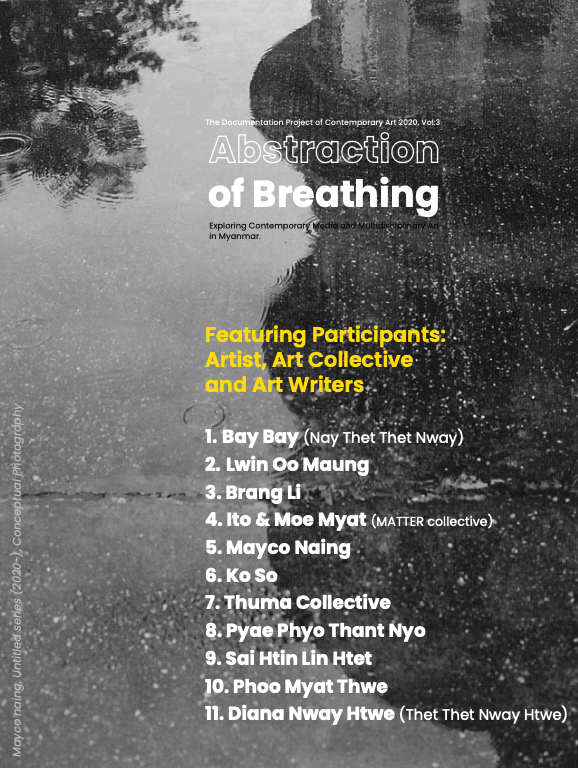 The Documentation Project of Contemporary Art 2020 Vol.3 / Abstraction of Breathing

This project is curated by Aung Myat Haty, Founder of SOCA(School of contemporary art project), and co-curated and supported by Mr. Yuto Yabumoto, Director of Aura Contemporary Art Foundation (AURA).


Project Background:
At the time of starting our project, we focused on the documenting of alternative art scene of Myanmar and archiving database of artistic approaches of local art scene. We aimed to develop of contemporary art practices and educational approaches. In fact that Myanmar art scene needs theoretical research and curatorial practices, which we has not fully prepared and organized infrastructures by the government institutions. The involvement of art in everyday life, except from the works of commercial art market, the effective results of reconsider the status quo of art much depends on the emerging of technologies changes are becoming more powerful. Photo, Video, moving images and sound experimenting has created a new art forms. These new pages are a compilation of our records. We hope that, these young generations of art practitioners will reflected the current identity with their own language of creations.


About the Project:
Our first project was conducted in 2013, the video interviews with artists and curators to share stories about how the scope of local art scene is going on. The project had positive responses of local and international art communities. In 2019, our second project was supported partially by AURA and the Japan Foundation Yangon office, to update research on local art scene after 2015 of social/political changes. The experimental and new ideas were rising slowly among young artists without supporting by the government. However, we believe the new era of art is emerging under many challenges. We will examine the various voices and feature the most important art works and ideas of the present time in multidisciplinary art through these different generations.


Short teaser video of "ABSTRACTION OF BREATHING"
Abstraction of Breathing: Exploring Multidisciplinary Art in Myanmar Vol:3 Facebook


Purpose of the Project:
The purpose of this project is to respond to the current crisis of ecosystem and political changes through a pandemic crisis by comparison of each artists' expressions and interpretations as well as to document of local art reflections.


Concept description:
Breathing is the concept of deconstruction and reconstruction inside our body- symbolic representation, revolving around the concept of death and resurrection called "Phyit chin & Pyiat chin"[1] in Burmese philosophy Breathing is a fundamental phenomenon of human existence, which is carefully examined in the study of Buddhist philosophy. Inhaling and exhaling can change the shape of the body physically and mentally through balancing of our metaphorical desires.

[1] In here I mean the believing and realities of our society. As explained here, "The Four Noble Truths comprise the essence of Buddha's teachings, though they leave much unexplained. They are the truth of suffering, the truth of the cause of suffering, the truth of the end of suffering, and the truth of the path that leads to the end of suffering."
Gilles Deleuze's, Explaining Spinoza in his practical Philosophy, guided us to know relation of body and mind, his use of the body as a model for philosophers, Deleuze writes that,
"When a body 'encounters' another body, or an idea another idea, it happens that the two relations sometimes combine to form a more powerful whole, and sometimes one decomposes the other, destroying the cohesion of its parts. We experience joy when a body encounters ours and enters into composition with it, and sadness when, on the contrary, a body or an idea threatens our own coherence".

In this way, our body is similar to the processes of earth's ever changing ecosystem. Changes of global environment deteriorate lands mapping surfaces, due to human flows of migration, discrimination and racism. At that time our struggle, desires and survival instincts bring to light many questions, such as how these chaotic processes should be understood[1].

This project "Abstraction of Breathing" is based on this phenomena and recognition that the human mind, run parallels between these functions. Intentionally, there is the meaning of Abstraction, based on the Latin original "to drag away". This is exactly why we aim to position ourselves in this geo-political mapping. These forms of meaning and thought bind into forms of visual interpretations by the artists. Specifically, this is also the witnessing of artists' responses to the new normal life.


[1] In here "At that time our struggle, desire and survives stressfully arises many questions as how to understand these CHAOS processes" Mean we face to uncertain situations by the many CHAOS on the political or social conflicts.

Aung Myat Htay and Yuto Yubumoto
Edited by Nathalie Johnston,

And Special Thanks for the discussion;
Ko San Lin Tun, Ko Ke' Su Thar and Diana Htwe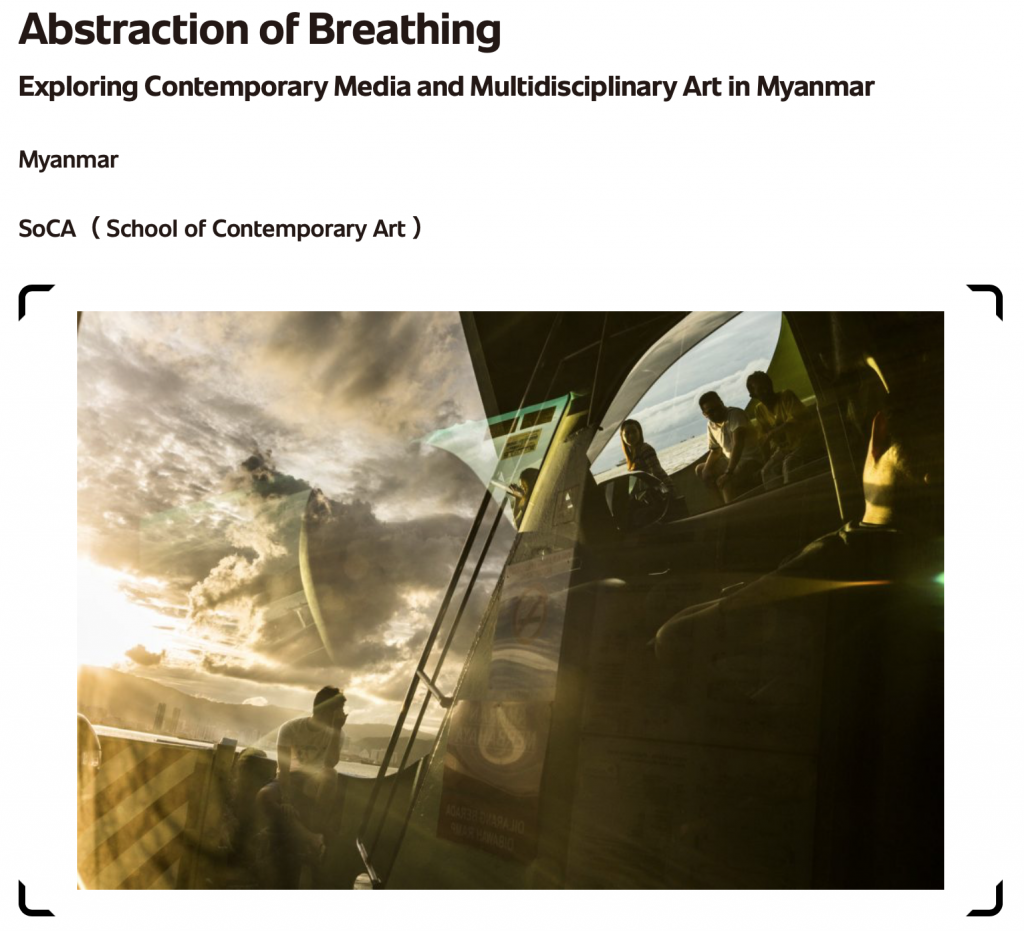 About SoCA (School of Contemporary Art):
SOCA has been initiated the project since 2015 in Yangon, for alternative art learning and distinction as response to mainstream old practices. We are aiming for building up community with art movements alternatively and a new platform for the young artists into contemporary art. SOCA provided a lot of programs via online, public exhibitions and international workshop in cross-media. SOCA's Art projects are free of charges movements and independently organized to support local art students who want to get further knowledge and connections in international links, we provides tactical approaches to learning, productions, research in contemporary practices and samples. We build up a platform for intellectual exchange and critical dialogue to creative mindset in local artists community. SOCA is running the online programs and special event like artist talk, art workshop and exhibit events based in Yangon.