Why the Contemporary Art of the Mekong? – Social Mission and Attractiveness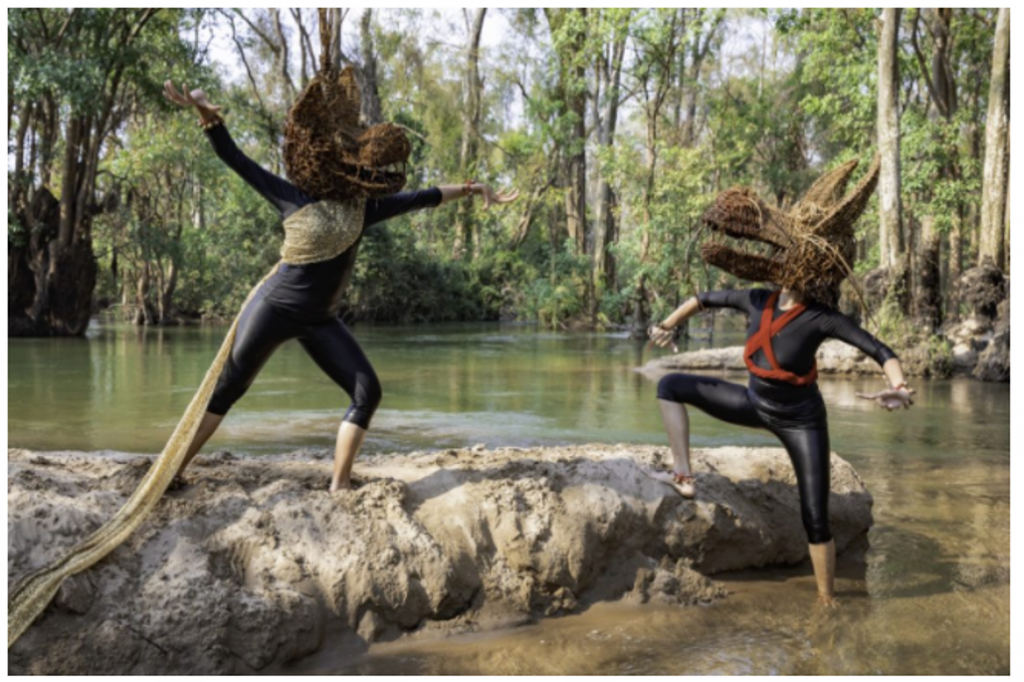 1. Introduction

Why contemporary art in the Mekong countries? - There is no particularly clear answer to this question.

To begin with, art is essentially extremely local and at the same global, there may be no point in creating a Mekong regional framework. For the Mekong countries, even if they are neighboring countries with borders, they are composed of different cultures, ethnic groups, religions, and languages, etc., and it may not be necessary to put these all together in one package. Rather, from my personal perspective, an international exhibition featuring artists from all over the world on a particular theme is more attractive than a localized exhibition.

However, what makes the 'Mekong countries' more attractive is that they have ambiguous boundaries that are different from the loose and existing frameworks that transcend nations, cultures, ethnic groups, religions, languages, etc. There is certainly here the concept of "Le partage du sensible", as the French philosopher, Jacques Rancière once put it, and that is what strongly attracts me.




2. Social significance

In the world of Southeast Asian contemporary art, except for Thailand, which boasts accumulation of predecessors and an better environment, contemporary artists and works in Vietnam, Cambodia, Laos, and Myanmar have not yet been fully introduced.

In terms of relations with Japan, the Fukuoka Art Museum (now the Fukuoka Asian Art Museum), which opened in 1979, plays an extremely important role in the research, collection, and introduction of Asian art. However, only artists from Thailand, Singapore, Malaysia, Brunei, Indonesia, and the Philippines were introduced at the 'The Third Asian Art Show' held in 1989. Later, in 1990, the exhibition titled 'Narrative Visions in Contemporary ASEAN Art' (Fukuoka Art Museum/Japan Foundation), the 1992 exhibition titled 'New Art from Southeast Asia' (Fukuoka Art Museum/Japan Foundation) and the 1997 exhibition titled 'Birth of Modern Art in Southeast Asia' (Fukuoka Art Museum, etc.) and 'Art in Southeast Asia 1997: Glimpses into the Future' (Museum of Contemporary Art Tokyo, etc.) were also introduced. Only Thailand from the Mekong countries, and artists from Cambodia, Laos, Myanmar, and Vietnam are not included due to the lack of information.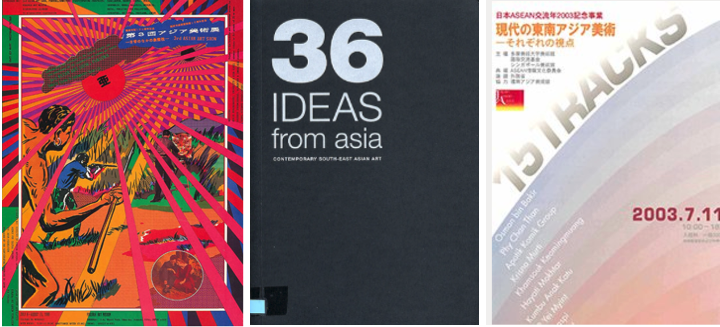 At the beginning of the 2000s, artists from Vietnam, Cambodia, Laos, and Myanmar were finally introduced at the exhibition '36 Ideas from Asia' (Singapore Art Museum) in 2002. In Japan, as an exchange project of ASEAN, artists from the five Mekong Basin countries were finally introduced in Japan at the '15 Tracks: Contemporary Southeast Asian Art' Exhibition (Fukuoka Asian Art Museum/Tama Art University Museum), which was based on the exhibition '36 Ideas in Asia'.

Since 2010, artists from the Mekong countries, other than Thailand, have begun to be introduced globally, although gradually, at the exhibition 'No Country: Contemporary Art in South and Southeast Asia (Solomon R. Guggenheim Museum and Foundation, New York), 'The Roving Eye: Contemporary Art from Southeast Asia' (ARTER, Istanbul) in 2013, 'Open Sea: 31 Artists from Singapore and South-East Asia (Museum of Contemporary Art in Lyon, France), Asia Pacific Triennial of Contemporary (Australia), Singapore Biennale, etc in 2014. In Japan, the exhibition 'Sunshower: Contemporary Art from Southeast Asia 1980s to Now' (The National Art Center, Tokyo/Mori Art Museum) was held in 2017. Many people probably recognized the presence of artists from Cambodia, Laos, and Myanmar at this exhibition.

Nevertheless, in the present situation, the exhibition and introduction of the Mekong country artists are only as described above. Our mission is to disseminate the appeal of artists from the Mekong countries, who are still unknown, to Japan and the world.



3. Charm and longing

The reason I am attracted to contemporary art and artists from the Mekong countries is, above all, simply because of their common attractions and aspirations.

(1) Powerful Energy and Way of Life
First of all, it is their way of life. Many of the Mekong countries have been colonized in the past. Vietnam achieved independence in 1945, Myanmar in 1948, and Cambodia and Laos in 1953. Afterwards, while being influenced by the Cold War, Myanmar faced war, civil war, dictatorship, refugees, immigrants, democratization, ethnic movements, high economic growth, and urban development, etc., and some sort of rebellion against such social events turned into high-concentration energy and sublimated as art.

For example, one of Myanmar's contemporary art leaders, Aung Myint, continues to express tremendous anger (incidentally, he says he is not angry). Aung Myint was born in 1946, predawn of Burma's independe. Shortly thereafter, when the military took power, the Myanmar art community experienced a period of intense censorship and oppression that lasted for more than 50 years. Nevertheless, as you can see from his past by looking at art works, his ideas and expressions have not shifted at all. Can I do the same as this? I want to be a person with the belief who can do the same as him, but I'm sure I can't. I am strongly fascinated by his way of life.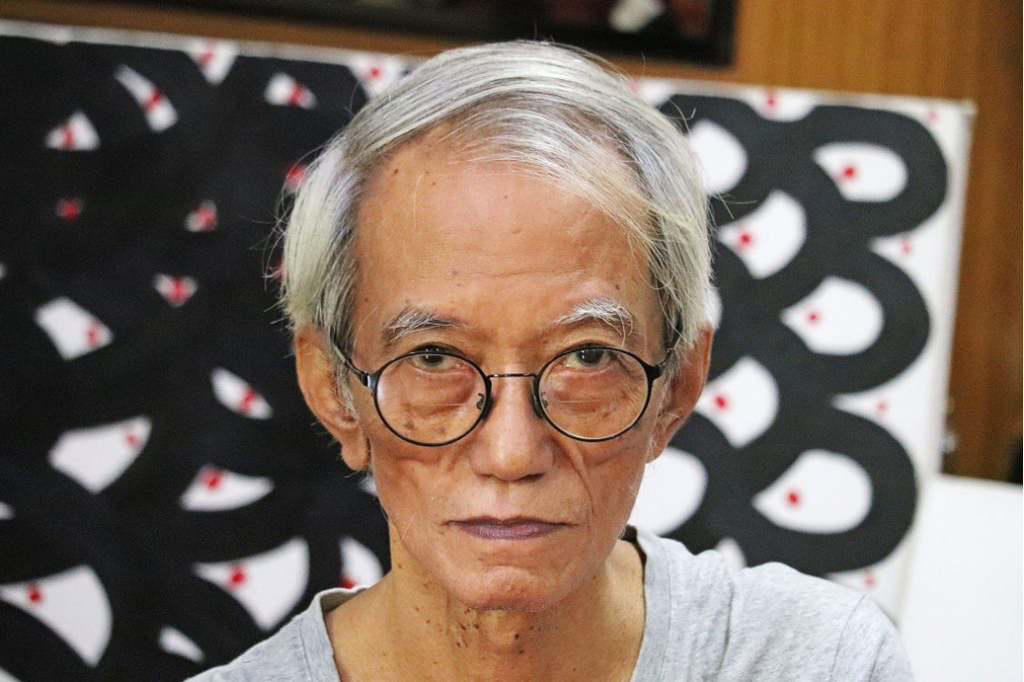 Other than Aung Myint, there are artists that have generated new ways on the basis of their chronological backgrounds and the evolving energies. For example, in the process of considering for the identity of 'What is Asia?' in the negotiation between the import of western modernism and tradition, artists who abandoned western materials, artists who created new methods and expressions by rebuilding human connections and relationships in Asian communities, etc. Their activities are both artistic and social in themselves. It is also noteworthy about such movements of art collectives that are not intended to create material things. Furthermore, not only traditional artists but also economists, jurists, cultural anthropologists, biologists, and others in the Mekong countries have entered the world of contemporary art beyond the boundaries of their fields to promote their expression activities.



(2) 'Glocalization'
The contemporary artists of Cambodia are truly local and global. Fortunately or unfortunately, it is not an exaggeration to say that the contemporary art market in Cambodia is nothing at this stage. Their work is naturally destined to fight for a place in the global world, and they fly around the world with their work as a storyteller of Cambodia, exporting its value to the whole world. I have a strong yearning for this, saying, 'I also want to be like that, I have to.'

Its characteristics are complete localism, and it takes more time than anything else to thoroughly extract the local essence. By excavating history, and culture, etc. of the region over hundreds or thousands of years, they extract its essence, and export it to the world, without degrading it, even in the global and universal value.

For example, Khvay Samnang (born in 1982, 'Frieze London' 2019, 'Taipei Biennial' 2018, 'Documenta14' 2017, 'Asia Pacific Triennial' 2015, 'Singapore Biennale' 2013, etc.), the most important young artist in Cambodia, uses various media to explore new perspectives and interpretations of various events in history, culture, and society. Mainly through specific locations, traditions and contexts within Cambodia, it is a 'local' piece, but from any of his works, one can sense a universal perspective.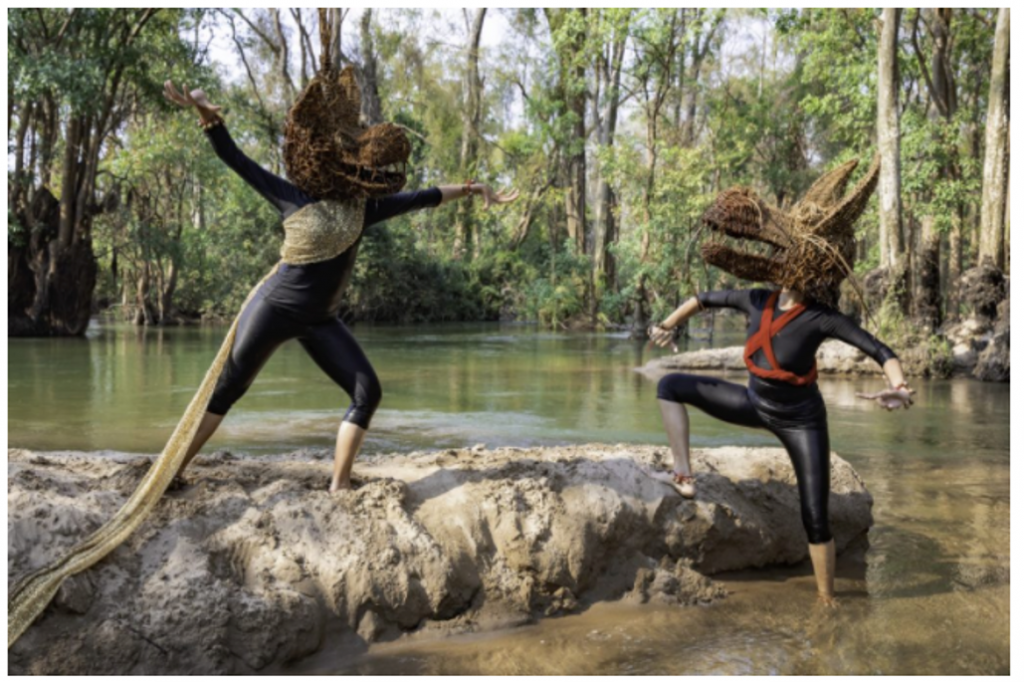 On 27th August 2020, Samnang was selected as an exhibiting artist for Bangkok Art Biennale 2020. The 'Popil' (picture above) collected by our foundation will be exhibited at the exhibition. The work symbolizes dragon masks woven from vine used for fishing, and two Khmer dancers wearing them appear. These represent (perhaps) one great nation and Cambodia, and the two dragons sometimes love each other and sometimes dance graciously while confronting each other. In the beautiful nature of Cambodia, the movement of a circle that characterizes Khmer dance, represents the flow of a great river, which expresses the complex and delicate relationship between the two countries that are intricately intertwined. This should be partly sympathetic to people in the Asia-Pacific countries other than Cambodia, African countries, and the rest of the world.

In addition to the universal value of magnificent natural beauty and humorous entertainment that anyone can see in the world, the multi-sense, multi-layered and meaningful issues projected in 21minutes 59 seconds continue to captivate global contemporary art lovers.

Yuto Yabumoto
Representative, Aura Contemporary Art Foundation

Read more>>
Why Mekong Contemporary Art is Necessary -The role of artists/lawyers in current world